Our Philosophy
What We Stand For
Stratford's philosophy is to view each child as an individual. For the past 50 years we have helped each child reach his/her full potential as a caring, giving and loving citizen of the world. The school's purpose is to promote development of the young child, ages three to six years, mentally, physically, socially, and emotionally, through the cooperative efforts of teachers, family members and others who are positioned to nurture, stimulate and encourage the child.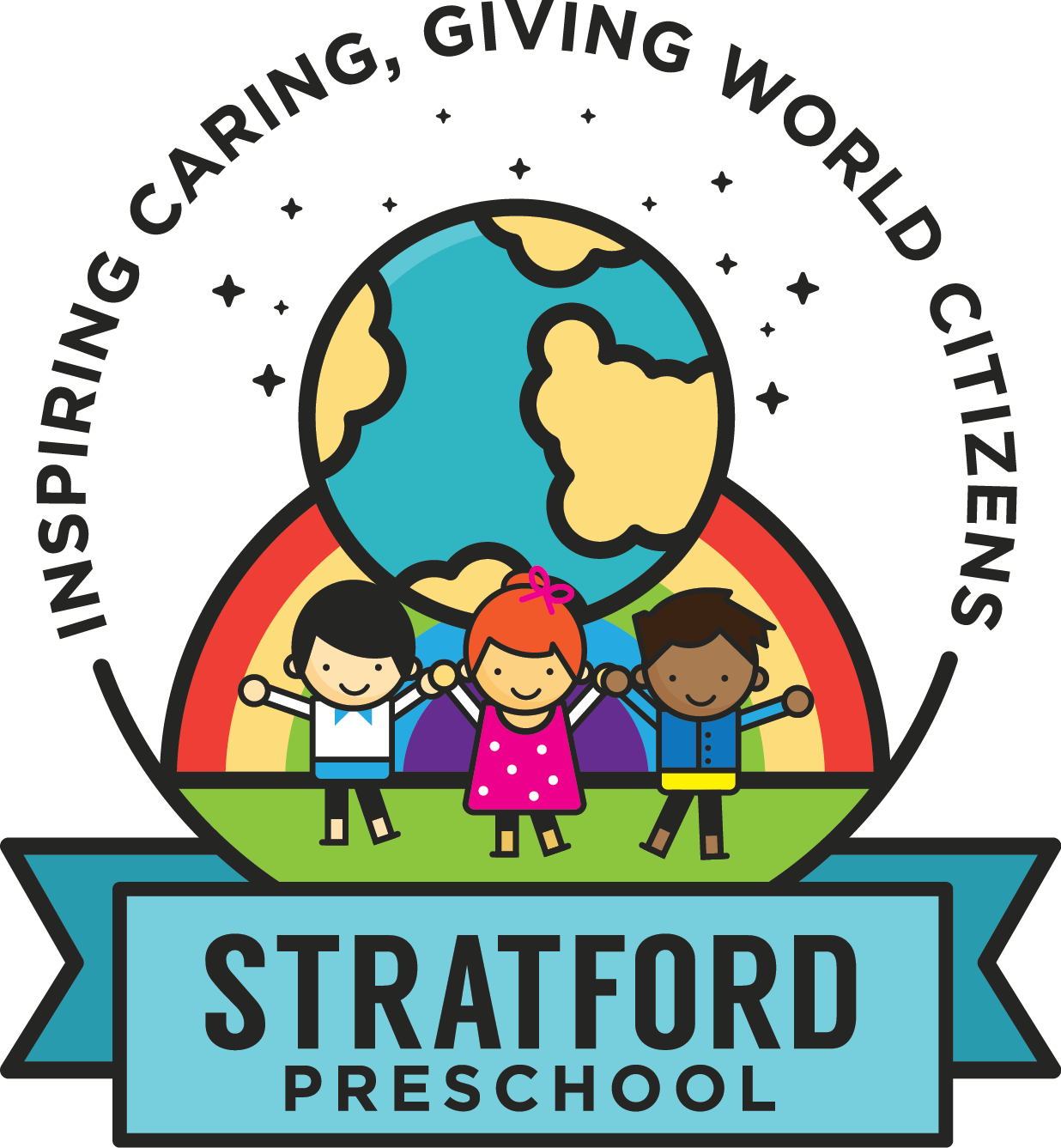 Empowering children to excel as lifelong learners.
Our Classrooms
Children attending Stratford are grouped in classes, according to age, primarily for social development. Interacting with others at their level of development, they form lasting friendships, based upon shared experiences.
We develop leaders.

 
Show and tell, which gives each child in turn an audience to address and one in which to learn to listen, is a favorite activity in the three and four year old classrooms.  Our older classes have "student of the week". This provides students these same opportunities, as well as a chance to practice their leadership skills.  At recess children enjoy running, jumping and playing in the open space or with age appropriate equipment provided by the school.
Stratford classrooms are "open".
The children may stand or sit, work or play alone, in pairs or in small groups. Meanwhile, the teachers encourage meaningful use of educational materials and equipment, which are abundantly supplied. The key is to keep each child  engaged in stimulating, instructive work. Sometimes, the activity is one-on-one, teacher and child. Other times, a one-on-one task attracts others, and a cluster develops; yet, each child is learning, individually. 
We have small class sizes. 
Our three year old, four year old classes and junior kindergarten class are limited to 10 students each. The senior kindergarten classes are limited to 13 children per class, but may have fewer students at the administrator's discretion. Our junior kindergarten program is well established, and one of the first in the area. Created 35  years ago,  it allows children a transition year built seamlessly into their preschool journey.
Spread throughout the year, each class studies various age appropriate themes: seasons of the year, weather, plants, insects, birds, animals, family, transportation, etc. The teachers incorporate art, music and educational materials into each thematic unit. For example the three-year-olds studying the farm, learn the names and habits of farm animals and common activities of farm life, learn that flour comes from wheat and is used in the bread we bake. They churn milk to make butter, then spread it on crackers and eat. American and European farm sets and farm related puzzles and puppets are available for free play during this period. Parents may help with in-school activities and reinforce learning at home by reviewing new vocabulary. In addition, the children are introduced to classical children's literature. They paint at easels, use stencils, water colors, tempera, chalk and even shoe polish to create beautiful masterpieces.
Our Team Approach
The director works with classroom teachers and with the children, individually, to ensure that each child's developmental needs are met. Parents are encouraged to discuss their concerns with a teacher, or with the director, so that small matters, whether educational or administrative, may yield to minor adjustments, not grow into major problems. Success of the program—yours and ours—depends upon the faculty of well-educated, warm and loving teachers, who in cooperation with the parents are committed to giving each child the joy of learning and the foundational skills for a lifetime of achievement.
"Both of our children went to Stratford and it was a great experience. Great academically and socially. If you are looking for the best preschool in the area, stop looking this is the place to be."
"This school is wonderful! The teachers are kind and nurturing, even while maintaining an academically challenging curriculum. I am so impressed by everyone involved."
"I highly recommend Stratford Preschool! If you are looking for a safe and caring environment for your child look no further."
Get In Touch
Location: 1445 N. Great Neck Road
Virginia Beach, VA 23454
Telephone: (757) 409-7319
Mailing Address: P.O. Box 3615
Virginia Beach, VA 23454
Email: info@stratfordpreschool.net
School Hours: M-F: 9am – 2:30pm